Raise your hand if you love cheesecake and chocolate chip cookies! Then these cookie dough cheesecake bars are a dream come true for you. With a buttery graham cracker crust, a layer of dreamy, creamy cheesecake, and chocolate chip cookie dough baked right into the top, you'll totally flip over this dessert!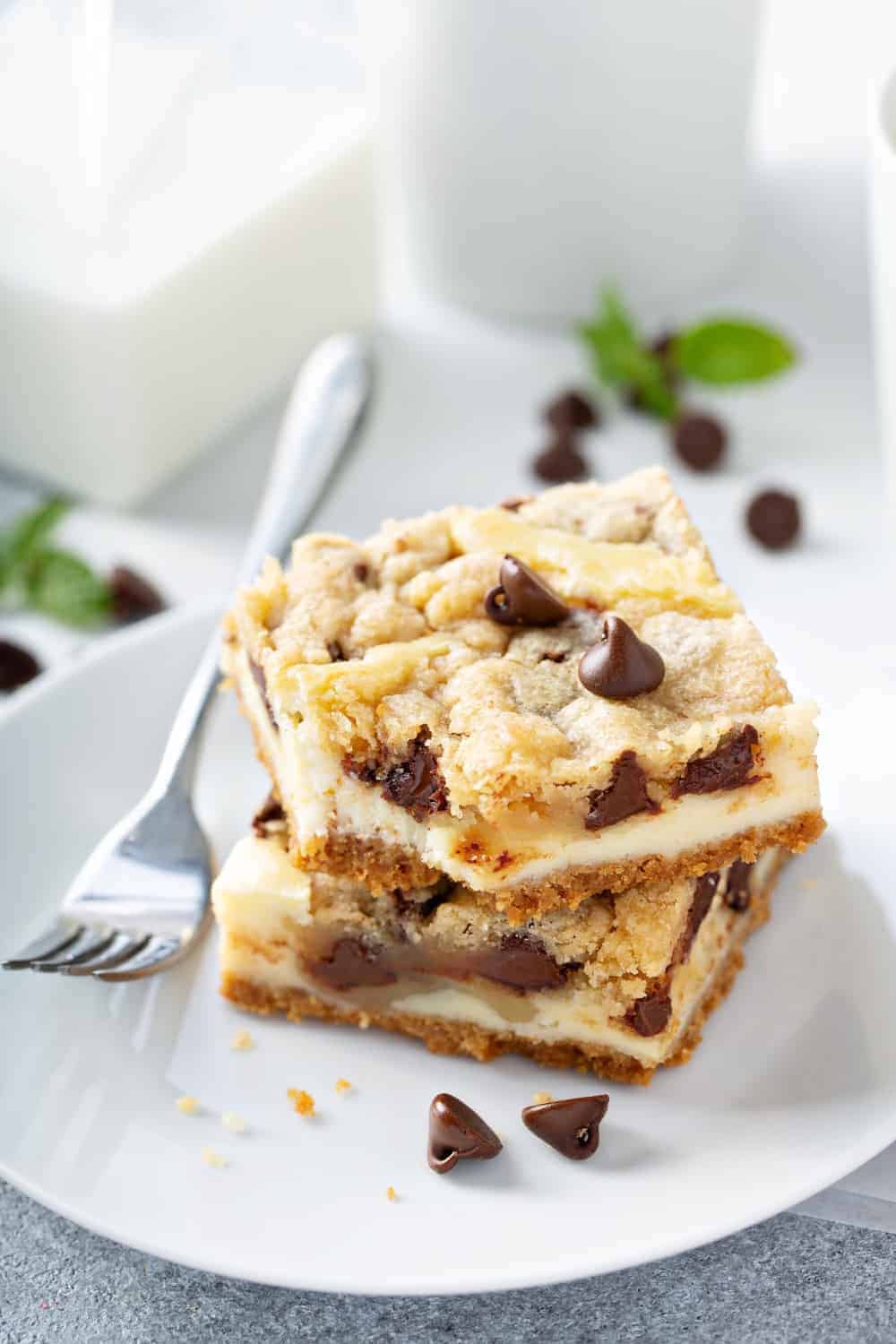 Sometimes I sit and ponder delicious baked goods to make for the blog and jot them into the notes app on my phone. And sometimes I think my ideas are utterly genius – well, momentarily genius, that is.
As soon as I google my brilliant idea, I usually find that someone else had the same amazing idea long before I did.

That was the exact scenario with these chocolate chip cookie dough cheesecake bars. It's no wonder someone came up with this deliciousness before me!
I mean, can you think of a more amazing combination than the love child of cheesecake and chocolate chip cookies? I think not!
OK, well maybe these chocolate chip cookie dough mini cheesecakes rank up right up there, too. But there's just something so homey about cheesecake bars, isn't there?
Now granted, I've made plenty of different kinds of cheesecake before. What can I say? I'm a big fan! But these cheesecake bars are something special and they're definitely different from any of the other cookie bar recipes you'll find out there.
The buttery graham cracker crust is the perfect foundation for layers of creamy cheesecake and chewy chocolate chip

cookie dough. How could you NOT fall in love with a dessert bar like this one??

(more…)
The post Cookie Dough Cheesecake Bars appeared first on My Baking Addiction.








Comments
So happy to hear you enjoyed the bars, Gladys! Thanks so much … by Jamie
My husband and in-laws are obsessed with this receipe. I … by Gladys Bell
Thank you for this comment! I ended up baking mine for 60 … by Kaitlyn
So happy to hear you have enjoyed these bars for years, Sable! … by Jamie
I've been making these for years and never disappointed! So … by Sable
Plus 5 more…
Original source: https://feeds.feedblitz.com/~/620021988/0/mybakingaddiction~Cookie-Dough-Cheesecake-Bars/